CALL US AT: 1-(773) 775-7600
For direct and private ordering and delivery!
Whole House/Office Plug Neutralizer Protection from EMF (Electro-Magnetic Field), EMR (Electro-Magnetic Radiation) .................$149.00
Electronic Harassment EMF's are emitted from almost every household electronic device. These EMF's have been proven to potentially cause a variety of diseases in the body. The Whole House Neutralizer contains a natural compound made up of paramagnetic materials found straight from the earth that neutralizes the negative effects of household EMF's on the human body. The neutralization of these EMF's can greatly enhance the environment in which you work, play and live with loved ones. The Whole House Neutralizer is intended for use in any home. It covers up to 5,000 sq. ft., neutralizing the EMF;s coming from all electrical devices plugged into the inside of outside of the home. You home's built in wiring system lets the Whole House Neutralizer power through your house without using any electricity and neutralizing every device plugged into any outlet. i.e. microwave, TV, computer, telephones, refrigerator, eavesdropping devices and other forms of electronic devices to due you harm etc. Simply plug The Whole House Neutralizer into any outlet in your home and it will begin neutralizing the harmful effects of EMF's and radiation, to any EMF emitting device that is plugged in to the electrical outlets.
Most people notice a difference in how they feel a few days after plugging it in. (less tired, more energy, fewer or no headaches) L Features: ▪ Will cover up to 5,000 sq ft - single or multi-story ▪Uses no electricity ▪Neutralizes all EMF emitting electric devices that are plugged in ▪Utilizes your house's wiring to protect you from outside EMF's ▪Will last a lifetime if taken care of ▪Most people notice a difference after a couple of days ▪Affordable whole house protection NOTE: The color may be yellow or gray.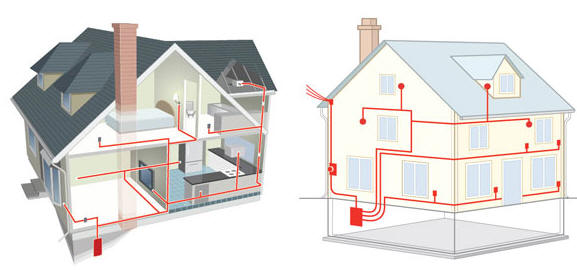 ---
RADIATION BLOCKING HEADBAND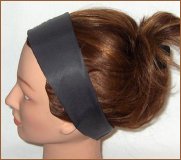 Using 99.9% Pure Silver and Comfortable Stretch
The perfect way to shield your ears. Comfortable enough to sleep in, and stylish enough to wear in public. High anti-radiation performance Silver stretch fabric gives excellent radiofrequency and microwave shielding. Made of double thickness 2" wide 71% polyamide + 29% elastomer fiber. Ideal for cellphone shielding or any other activity when you need to shield your ears and forehead. Thin enough to fit under a hat or helmet. Durable and unwrinkleable, washable too (no bleach). Silver provides anti-bacterial properties and suppresses odor. Folds small for easy transport. Pretty Silver color.
Radiation Blocking Headband (Cat. #A218) …………… $44.95
---


















IS SOMEONE LISTENING AND
TRACKING YOU?







Bug Finder Pro-96
(Locates Eavesdropping Audio and Video Camera Spy Devices!
......
$99.00
This anti-spy full-frequency detector can detector the hidden GSM device cellphone camera and other hidden camera around you. It is multi-angle adjustable, keep wide range detection, and detect precisely.
Low-voltage prompts, built-in rechargeable battery.
The windows hole can be seen through to find all the cameras that are facing you. Auto-detection, when detect the hidden camera, it will vibrate to tell you.
With a signal strength indicator lights that can quickly find the signal source
Adjustable sensitivity, high sensitivity to find the camera in wide scope, and reduce the sensitivity to detect in a small detection range.

Specifications:

1.Detection mode: 1.Laser detection, 2.Vibration (Mute) detection, 3.Beep detection, 4.LED display detection. 5. Headset 2.Wireless Sweep: frequency detection range (1MHz-6 5GHz) 3.Laser detection Camera distance of 10cm-10meters (the naked eye can identify red flashing) 4.Radio detection of camera range 5cm-l0meters (according to the camera transmit power distance)





Power in the 50mv-200mv detection range 30-50cm
Power in the 300mv-600mv detection range 100-200cm
Power in the 80gray-1200my detection range 300-800cm
Power Built-in lithium polymer battery 450mAH

5.Current Consumption: 8mA
6.Probe laser wavelength of 920nm
7.Receive frequency range: 1MHz-6500MHz
8.Special dedicated optical lens filters
9.Matedal: ABS
10.Size: 93mm x 48mm x 17mm
Application:
office room, conference, shown, movie hall, house room, in the car, in some confidential places.
---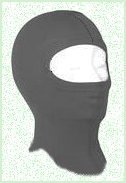 BALACLAVA SHIELD
Head and Neck Protection
Very comfortable radiofrequency shielding for the head and thyroid region. Medical grade, silver coated stretchy fabric provides very good microwave shielding. Washable and very soft. Can be worn many ways: covering nose/mouth or not. Covering neck or not. Size of eye opening can be adjusted to your preference. Shielding performance decreases over time. Lightweight, stretchy, anti-bacterial fabric is the key. One size fits all. Made in USA.
Balaclava Shield (Cat. #A219) …………… $89.95
---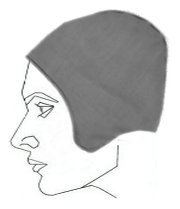 BRAIN COATTM
RF Shielding for Your Mind
Stretchy anti-radiation Silver-coated nylon skull cap with ear flaps is lightweight and breathes nicely. Comfortable enough to wear year-round while sleeping, thin enough to be worn under a conventional hat or all on its own. Stretchy, so it conforms to your head.
Microwave Shielding Effect: >35dB at 1-10 GHz. Surface resistivity: <0.5 Ohm/sq. Shielding performance decreases over time. Sound quality is not affected. Ear flaps can be tucked under to make a beanie shape if you prefer. Ok, it's not a Royal wedding "Fascinator" but if you prefer comfortable, practical, effective RF shielding over fashion, this is the hat for you.
Brain Coat (Cat. #A221) …………… $99.95
What our customers tell us:
"I bought the brain shielding cap....and I wanted to say THANK YOU FOR HAVING THIS PRODUCT. It helped stop the feelings I had from some device that was being used on me. I couldn't believe that the day I put on the cap the feeling and signal was blocked and it instantly felt myself again. I also bought the RF shielding poncho and few others products... I'm in awe on how these things are actually a cure to my suffering."
D.P., Illinois
---
SHIELDED CAP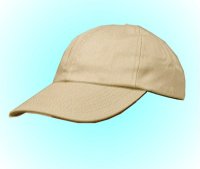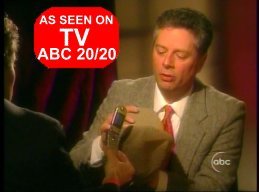 Smart and Subtle
Protect your brain from RF (radio-frequency) pollution with this handsome baseball style hat. Specially designed to shield the head from frequencies from below AM through microwave, including cellular phone frequencies. Lined with sophisticated Polyester/Cotton blended with micro-fine stainless steel fibers for excellent radiation protection. This gives this unique fabric a truly comfortable, natural feel, durability and washability, but with exceptional reflective characteristics.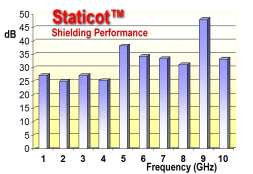 Research links RF radiation with behavioral and cellular disturbances. Many people can actually sense the differences in the levels of "mind noise" from RF radiation. Provide your brain a quiet place without interference to your mental processes from RF radiation. Hand washable, Tan color. Adjustment strap means one size fits all. Union made in USA.
Shielded Cap (Cat. #A210) ….........................…. $69.95
Case Price [36 units] (Cat. #A210-case) ……. $1076.00
---
---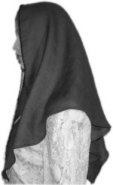 SILVER LINING SCARF
Stylish protection for your head, neck and shoulders
Unlined scarf is pure anti-radiation Silver Lining fabric, nicely hemmed. Light yet soft, durable and washable, a full 36" x 36". Wear it "as is" or use it to line your favorite silk scarf. Can be tied around the neck, or head, or draped as shown. Provides 99% or better shielding to 1 GHz and beyond.
Silver Lining Scarf (Cat. #A204) ............ $160.00
---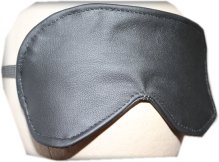 eye-Shield™
A Vacation For Your Eyes
Give your eyes a rest with the luxurious benefits of pure Silver. eyeShield™ is a new style of blindfold, made with microwave blocking Stretch Conductive Fabric. Feel the cool comfort of Silver against your hot eyelids as you relax in the darkness of your inner world. Experience what it feels like to block the RF radiation from reaching your eyes. Great for a quick nap, plane trips, or all night long.
Soft and padded, contours nicely to your face with generous notch for maximum nose comfort. Single elastic strap, fits all head sizes. Hand washable.
eyeShield™ (Cat. #A222) ......... $58.95
---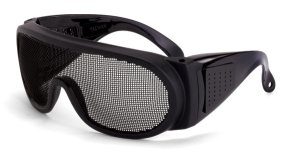 EMF SAFETY EYEGLASSES
Protection Specifically for the Eyes
These are truly remarkable! Reasonably stylish eyeglasses that offer radiofrequency shielding. Metal mesh shielding alloy forms the lenses, permitting wide view visibility for driving, working, or relaxing (not for fine work). Can fit over most normal eyeglasses. They will never fog or smudge. Durable black plastic frames complete the design. Simple effective. Give your eyes the rest they need. Another first from LessEMF!
Shielding performance: RF: 20+dB (>90% reduction) tested at 50MHz and 900 MHz
EMF Safety Eyeglasses (Cat. #A254) ............ $39.95
---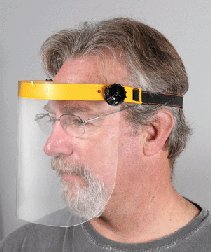 EMF FACE SHIELD
Shields Eyes and Entire Face
If your eyes or face burn when you use your TV or computer, now you can shield irritating electric field and RF with this simple shield. Adjustable elastic head strap and replaceable visor which can flip up. Comfortable for extended wear. Uses
ClearShield
plastic film as the shielding component. Order additional ClearShield for replacement visors.
EMF Face Shield (Cat. #A260) ......... $84.95
ClearShield Stock (8x12") Rectangle (Cat. #A260-R) … $39.95
for replacement visors
---
SLEEVELESS BLOUSE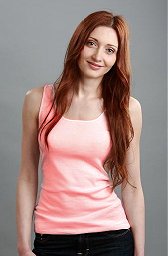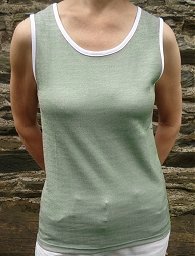 Comfy, cool and lightweight
You will look pretty in pink and smarter than a smart meter with this shielded blouse. Wear it alone or under a shirt or sweater. Straight fitting, knit fabric feels nice against the skin and contains just enough Silver to achieve a respectable 35 dB shielding. Radiowaves bounce right off. Protects torso and abdomen. Pink or gray, with white trim. Suitable for men or women. Material: 50% Silver/50% Beechwood. Machine wash, hang dry. Choose PINK or SAGE GREEN.
Dress Size

Price

Cat. #

Order online

Cat. #

Order online

Small

8

$199.95

a250-S

a251-S

Medium

12

$199.95

a250-M

a251-M

Large

16

$229.95

a250-L

a251-L
---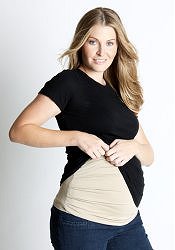 BELLY BAND
Tummy Shield for Pregnancy… Microwaves Bounce Right Off
Where do you hold your cellphone? iPad? Laptop? Right in front of your belly where it can best radiate your baby! The Belly Band is a microwave (radiofrequency) tummy shield for expecting mothers who prefer little snugness around the belly and a looser fit. The pleated design makes it easy to adjust the amount of vertical coverage. It can discreetly cover unzipped pants as the belly grows. Laboratory tested for performance. Repels wi-fi, cellphone, microwave oven, CB/TV/FM and other RF radiation.
- Pleated and breathable for discreet, comfortable fit
- 95% Rayon, 5% Spandex, and RadiaShield® Fabric (a highly conductive Silver textile providing 99.9% RF shielding effectiveness)
- Four sizes (small to x-large)
- Light-weight and machine washable for everyday use
Instructions: Wear under or over clothes throughout your pregnancy, with larger side fully covering your belly.
Black only. Makes a great gift!
Belly Band ordering information:

Size

Pre-pregnancy
Size (US)
Top of Belly
Circumference
Bottom of Belly
Circumference

Cat. #

Price

Small

0-4 (xs/s)

24-30"

28-34"

A234-s

$99.95


Medium

6-10 (m/l)

28-34"

32-38"

A234-m

$99.95


Large

12-18 (l/xl)

32-38"

36-42"

A234-l

$99.95


X-Large

20-24 (xl/xxl)

36-44"

40-48"

A234-xl

$99.95

Sorry, not available for export outside USA
SILVER LINING GARMENTS
Gain Control of Your Inner Environment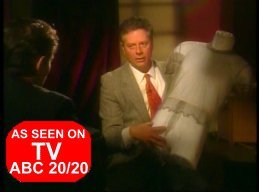 Very sheer, comfortable anti-radiation undergarments you can wear over your regular underwear to shield yourself from powerline and computer electric fields, and microwave, radar, and TV radiation. This silver-plated, stretchable, washable nylon mesh is electrically conductive. It provides EMF radiation protection by reflection.

Plus you won't get those static shocks as you used to in dry weather and your clothes won't cling to you! Fabric provides up to 35dB of shielding at 100 MHz. Made in USA. Surround what you want to protect!
Specify desired size when ordering:
S · M · L · XL · XXL
We recommend that you order a size larger than you normally wear, so that you can put the Silver Lining garment over a cotton undergarment, to avoid direct contact between your skin and the conductive fabric. This will help prolong the life of the garment (less wear and tear, and less washing).
Note: The factory is producing these garments with 2 different types of fabric. Some of our stock is the mesh described above. Some is a very soft and more durable solid knit. Both offer excellent shielding. Generally speaking we will have only one type at a time (for each size), so we will ship what we have in stock.
Silver Lining Tank Top

chest

length

#A201 Tank Top
$160.00

Small

32"

20"

Medium

36"

23"

Large

40"

24"

X Large

45"

24"

XX Large

50"

24"
Silver Lining T-Shirt

chest

length

#A205 T-Shirt
$210.00

Small

28"

20"

Medium

36"

24"

Large

40"

26"

X Large

45"

27"

XX Large

50"

29"
---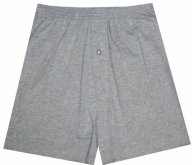 SILVERELL® BOXER SHORTS
Generous Cut, Soft as Cotton
Good RF shielding with Rayon and Silver fabric. Elastic waist band. Fly front with 1 button. Very simple design, suitable for men or women. Machine washable. Specify size when ordering: S, M, L, XL.
Silverell Boxer
Small [28-34" waist] (Cat. #A261-S) .............. $99.95
Medium [30-36" waist] (Cat. #A261-M) ....... $99.95
Large [34-40" waist] (Cat. #A261-L) ............. $99.95
X-Large [36-44" waist] (Cat. #A261-XL) ...... $99.95
---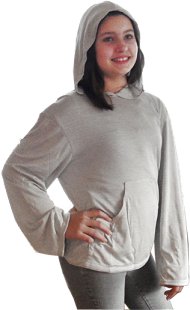 SILVERELL® HOODIE
Cozy, Soft, and Discrete
Prefer a shielding garment that no one will notice? This typical looking hoodie sweatshirt does the trick for the upper body and head! Made from very comfortable 90% Rayon and 10% Silver and tested to 90% or better RF attenuation over the frequency range from 1 GHz to 8 GHz.
In addition, the high conductivity of silver causes Silverell to have antistatic behavior, plays an important role in minimizing body odor, and has a strong inhibitory effect on the growth of bacteria (actually acts as an antiseptic!). Loose fitting pull over style, not gathered at cuffs and without a drawstring for the hood. Light weight gray fabric. Wash in cold water, delicate cycle, line dry. No bleach. Fabric will pill if used as an outer garment. Suitable for both men and women. Style may vary from photo. Specify size: S, M, L, XL
| | | |
| --- | --- | --- |
| Sleeve | Chest | Silverell Hoodie |
| 32" | 34" | Small (Cat. #A263-S) ............ $249.95 |
| 33½" | 38" | Medium (Cat. #A263-M) ...... $259.95 |
| 35" | 42" | Large (Cat. #A263-L) ........... 249.95 |
| 36" | 46" | X-Large (Cat. #A263-XL) .... $259.95 |
---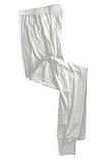 ESMOG PANTS
RF Shielding for Legs and Pelvis
When boxers are not enough coverage, these very soft, stretchy lounging pants offer radiofrequency shielding to the whole leg. Loose fitting, also great as pajamas or under standard pants. Made from our washable Silverell fabric (same as Hoodies above) to achieve 20-40 dB attenuation (depending on frequency). Straight hem on cuff. 1" elastic on the waist. No fly in front. Appropriate for both men and women.
| | | |
| --- | --- | --- |
| Waist | Inseam | Esmog Pants |
| 30" | 30" | Small (Cat. #A267-S) ............ $202.26 |
| 32" | 31" | Medium (Cat. #A267-M) ...... $211.26 |
| 34" | 32" | Large (Cat. #A267-L) ........... $221.88 |
| 36" | 33" | X-Large (Cat. #A267-XL) .... $227.26 |
---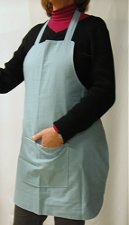 SafeGuard APRON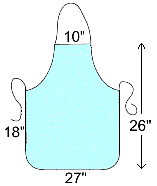 Soft feel and gentle to the skin. Completely machine washable (no bleach) and dryable (cool) without losing shielding performance. Generously cut for comfort and great "neck to hip" protection for pregnant women, computer and microwave oven users, TV or radio station workers, research and hospital workers, or anywhere people are exposed to RF radiation.Color styles may vary.
"Durable, Convenient, and Attractive"
This unique apron is constructed using our special cotton based Staticot™ shielding fabric which is a highly effective E-field and RF shield, providing up to 40 dB to 10 GHz according to test results. 1000 Ohm per sq on the surface, so it is also great for static discharge and easy to make ground connections.
Safeguard Apron (Cat. #A216) .... $99.95
---
DISPOSABLE SHIELDING PONCHO WITH HOOD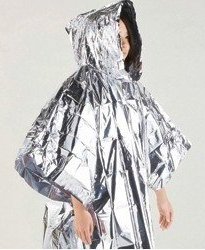 "
Go Anywhere RF Shielding"
Is this you? Your skin is burning, your heart is racing, or you are feeling irritable and spacy as pulses of microwave/RF radiation wash over you. It could be in your own apartment, on a plane or subway car, hotel or class room, workplace or movie theater. Even just walking down the street!
Whether you get caught in a surprise rain storm or irritating sea of wireless radiation, you'll be glad you packed your shielding hooded poncho. Covers head, torso and arms with >20 dB shielding.
Generously proportioned for ease of motion, one size fits most all body types. Easy to slip on and off, and extremely light weight. Keeps you warm, shaded from the sun, and dry too. Windproof.
We call it disposable, but you can certainly re-use it. Weighs only 3 ounces, and 4x5 inches and when folded. Stores safely for years, ready when you need it. Perfect for purse, car, suitcase, camping or home use.
Disposable Shielding Poncho w/ Hood (Cat. #A312) ........... $19.95
Poncho Bulk Pack
Get 10 for the price of 9
(Cat. #A312-10) ................ $84.55
---
SHIELDED GLOVES
The Finger Faraday Cage!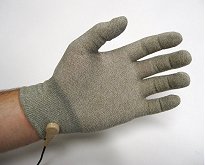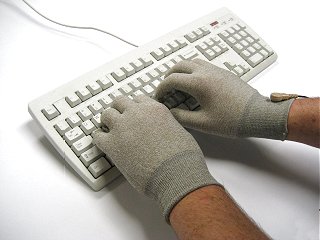 For those of you who experience (or want to prevent) ES symptoms in your hands when using a computer keyboard, laptop, cell phone or other electronic devices, these gloves form a conductive enclosure and effectively shield electric fields. Soft, light weight, with ribbed cuff, and offering good tactile sensitivity. Stretchy, s
o one size fits all, in basic gray color, each glove has a snap for a ground cord. Fully washable and tested for 50 cycles with no appreciable loss of conductivity. All fibers are conductive, achieving resistivity of less than 103 ohm/sq. Supplied with one 10-foot coiled ground cord with snap on one end and a banana plug/alligator clip on the other end. These gloves are also used in industry for static control when working with delicate static sensitive components. Grounding is not necessary for Faraday Cage shielding effect, but is necessary for static control. Try it both with and without ground cord and use whichever method works best for you. Also useful on touch screens like an iGlove.
Shielded Gloves (Cat. #A240)...............................$49.95
Extra Ground Cord Only (Cat. #A241)...................$19.00
[We are told that snaps on these are compatible with Dritz brand Snap Fasteners, size 16 - 7/16 in (1.1 cm)]
---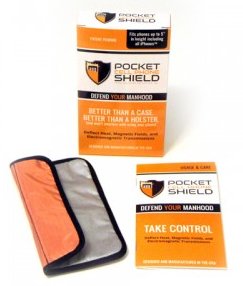 POCKET SHIELD
"Convenient and Versatile Cell Phone Shield"
Think for a moment: Where does the radiation go when your phone is in your pants pocket?
Pocket Shield is a simple, removable liner made of advanced metalized fabrics and foils that slips into your pocket and stays hidden out of sight – to deflect heat, magnetic fields, and electromagnetic transmissions.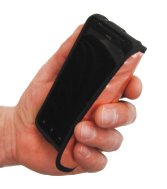 The Pocket Shield's patent-pending design incorporates a unique combination of metals and alloys, including Copper, Nickel, and Cobalt. Pocket Shield is almost weightless and so thin that you don't even feel it or see it when it's in your pocket.
Discreet. The entire product weighs just a few ounces, is a fraction of an inch thick, and makes no more noise when crinkled than a paper receipt would. It is silent, and invisible once in your pocket. Can be used on either the right or left side. In fact, you might even forget that you're using it.
Bonus: You can even use it to shield your hand when holding the phone.
The Pocket Shield is not intended to go through the washing machine or clothes dryer, or to be dry cleaned. Fits phones up to 2.5 x 5 inches. Made in USA.
Pocket Shield (Cat. #A315) .............. $69.99
---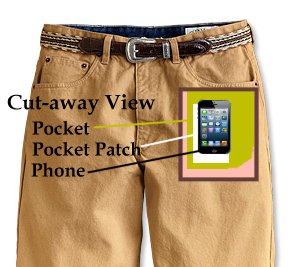 POCKET PATCH
"Reflects up to 99% of Microwave Radiation Away from Your Body"
So you are careful about NOT putting your radiation emitting mobile near your head. That's good. But think about this: what body parts get the radiation when you put the thing on your pocket, bra, hat, purse, holster or elsewhere on your body? Now your vital and sometimes private organs are basically in contact with the source of the microwaves, getting the largest dose possible. Pocket Patch is a high performance shielding patch that you iron onto your clothing which reflects that radiation away from your body.
Simply invert the pocket, trim that patch to size if needed, and iron into place. Nothing to remember and nothing to lose. Just make sure the patch is positioned between you and the phone. Laboratory tested, the Pocket Patch deflects up to 99% of cell phone radiation away from the body.
Can be used in jacket, shirt or pants pockets, holsters, bras, purses and other places where you keep your phone.
Pocket Patch fabric: 90% cotton, 9.5% copper and 0.5% silver

Dimensions: 14cm x 9.5cm (5.5" x 3.75")

Easy to iron on, advanced, high quality fabric

Friendly on the skin, washable, durable and comfortable

Care Instructions: Machine wash, cold water. No bleach.

Do not dry clean.
Each package contains 3 patches. Get enough for your wardrobe. Makes a great gift too!
Pocket Patch (Cat. #A333) ............ $39.95
---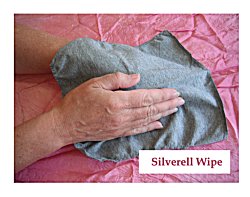 SILVERELL WIPE
Antimicrobial Silver Wipe
Germs are everywhere! When you have daily contact with people and don't have time to wash your hands frequently, you can still protect yourself from germs.
Teachers in contact with many children and people who handle currency as part of their daily job functions should wash their hands often. Shopping carts, runny noses, petting zoos, and public rest rooms are some of the many other common encounters with germ covered surfaces.
Use wet or dry. Silverell Wipe towels kill disease causing germs. Use between hand washings to take advantage of the anti-bacterial properties of Silver to reduce bacteria counts. Convenient 12x12 inch wipe can be used over and over. Simply wipe your hands thoroughly! Easy to carry in pocket or purse. Easy to pack in a lunchbox, briefcase, glovebox, or picnic basket.
Silverell Wipe can be machine washed many times (cold, delicate cycle and line dried) with little reduction in effectiveness. Very unique!
Silverell Wipe (Cat. #A1223) ................. $31.95
---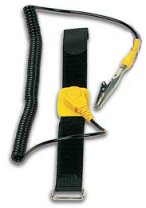 VELCRO ANTI-STATIC WRIST STRAP
comfortable 2 cm wide, black nylon Velcro strap

interior surface is coated with conductive carbon

completely adjustable

coil cord with 1 Mohm resistor, connects to strap with snap, stretches to 60 inch

cord terminates with banana plug or alligator clip (included)
Velcro A-S Wrist Strap (Cat. #A469) …… $7.95
---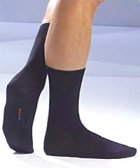 CONDUCTIVE SOCKS
Comfortable, Washable Foot Shielding
Conductive dress socks for RF shielding, static control, grounding, wound healing, and odor control. 88% cotton, 10% silver-nylon, 2% Lycra®. High Silver content inhibits bacteria growth minimizing odor and promotes wound healing. Adequate radiation reduction from 800 MHz to 18 GHz. Two adult sizes: Black = large, Tan = medium.
Conductive Socks - black (Cat. #A217-B) ............ $69.95/pair
Conductive Socks - tan (Cat. #A217-T) .............. $69.95/pair
---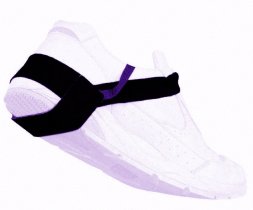 HEEL GROUND
"Makes any Shoe into a Grounding Device"
Perhaps the easiest way to stay grounded when you are on the go. Reversible rubber material is black on one side, gray color on the other. Non-marking on most surfaces. Slip over the heel and wrap the Velcro™ strap around the front of your ankle to hold it in place. Conductive tag can go inside the shoe or into the top of your sock to make contact with your skin. Includes 1 MegOhm resistor. Static dissipation to zero volts is accomplished in less than 0.1 seconds on any conductive surface. Keeps body voltage low.
Heel Ground (Cat. #A242) ............... $10.95
---
LIGHT DUTY FARADAY CANOPY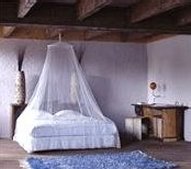 When Moderate RF Reduction Will Do
Give your body a chance to rest! Attractive and functional canopy can be used over beds or other similar sized areas to reduce radiofrequency radiation. Made from very light weight
Swiss Shield Daylight
fabric (92% polyester net-knit, with 8% silver-plated copper fiber content) which stops over 80% (16dB) of microwave radiation energy penetration (over at least 200-3000 MHz).
Nice veil-like appearance (plenty of air and light penetration), and has the conductive components on the inside of the threads, so no metal coating to flake and no need for grounding! Canopy covers the top and sides of bed. Easy to get in/out of bed and lots of head room.
Can be washed in gentle cycle, with mild detergent. Even frequent washing seems to do no harm to the shielding power of the fabric. Comes with swag hooks and an easily detachable hoop for easy mounting. Very transportable too.

Some owners say using this product to reduce RF has alleviated their symptoms associated with electrosensitivity, such as ringing in the ears, headaches/migraines, insomnia, confusion, irritability, nausea, circulation problems, etc. 2 sizes:

Light Duty Faraday Canopy:
- King/Queen/Full Size (Cat. #A200-K) ... $1699.00
- Twin Size (Cat. #A200-T) ......................... $1259.00
---
Need shielding underneath the bed too?

You can order more of the same Swiss Shield Daylite fabric. Material is 8.2 feet wide. Order as many linear feet as you need. You can even use it to make a canopy to your own specifications.SwissShield Daylite (Cat. #A332) .... $24.95 per lin ft
---
---
QUIET ZONE RETREAT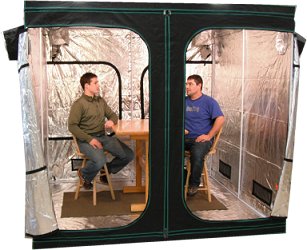 Imagine a portable cocoon, large enough for you to stand, sit, or sleep comfortably while escaping the ever-present barrage of wireless radiation.
The Quite Zone Retreat is just that. Available in 2 sizes, completely free-standing and self supporting, with large zippered doors for easy access. All surfaces are made with durable 600D Mylar fabric shielding material which locks out >99% of wireless radiation from every direction.
The inside is dark when fully closed. Bring in a flashlight, or set up more permanent battery operated LED lighting. Several vents allow passive air circulation, or you can use the included variable speed fan with 25 foot duct for increased air flow.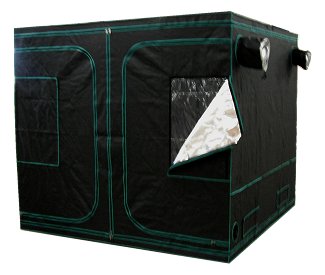 Completely portable, sets up in minutes. Internal steel support poles with corner brackets included. Add a carpet or roll out linoleum floor for comfort and protection. Intended for indoor use.
Standard size is ~4x8 feet, x 7 feet high (big enough for a twin mattress, couch, or table and 2 chairs) Large size is ~8x8 feet, x7 feet high (big enough for a king mattress, small dining table, or several upholstered chairs.)
Quiet Zone Retreat: Standard size: (Cat. #A718) … $629.95
Quiet Zone Retreat: Large size: (Cat. #A719) .......... $829.95
---
DISPOSABLE SHIELDING TENT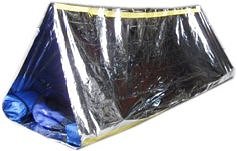 "Portable RF Haven"
What do you do when you find yourself in a hotel room, at a friend's house, or any place where you don't control the environment and you just need relief from wifi, smart meters, cellphones, and other wireless signals?
This tent, made from aluminized Mylar (well known for its good RF shielding ability, toughness, and light weight) is so handy, versatile, and effective you won't want to travel without one. It is basically a tube, 8 feet long, with a perimeter of 10 feet, and open at both ends. Use it the way it comes as a Faraday sleeping bag or tent (tent will need some structural support which is not included, such as rope, stakes, tape, and so on). Or slit it open to a giant 8x10 foot sheet which is big enough for a king size bed blanket, ground cover, personal wrap, or window curtain. Trim it with scissors to make a poncho, skirt, or smaller enclosures for wifi modems, etc.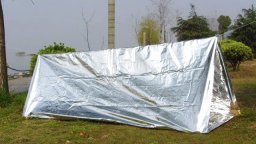 Will shield you from the hot rays of the sun, keep you warm when temperatures drop, reflects light and heat, and best of all offers >20 dB microwave shielding. Completely waterproof and windproof too.
We call it disposable, but you can certainly re-use it. Weighs only 7 ounces, and 6x8 inches and when folded. Stores safely for years, ready when you need it. Perfect for car, suitcase, camping or home use.
Disposable Shielding Tent (Cat. #A313) ...................... $32.95
Tent Bulk Pack
Get 10 for the price of 9
(Cat. #A313-10) ................ $196.55
---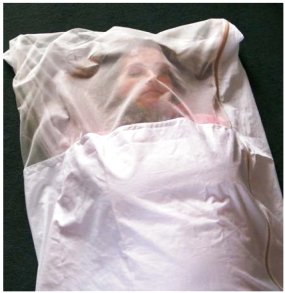 BlocBag™
"Microwave Radiation Protection Sleeping Bag"
Enjoy a peaceful night's rest under reduced exposure to mobile phone signals! BlocBag is a protective sleeping bag made from comfortable, light weight, microwave reflecting material… superb
Swiss Shield Wear
cotton shielding fabric is used for the body, and
Swiss Shield Daylite
polyester mesh fabric for the hood.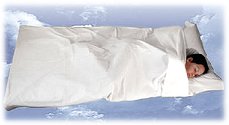 Pretty, white fabric feels almost like cotton bedsheet and folds nicely to the size of a book for complete portability. Great for home or travel. Tested to provide 22dB attenuation up to 1.8 GHz, no grounding necessary. Extensive zipper for easy in/out and ample 96x34 inch space is plenty of room for the average adult. Wash cold (40°C) with gentle cycle using mild detergent only! Spend the whole night or enjoy a completely new kind of power nap! 96x34 inches overall, with a 32x34 inch "window" at one end.
BlocBag (Cat. A230) …… $659.95
---
PROTECTIVE BEDDING™
"Microwave Shielding for the Bed"
Faraday Canopies are great, but sometimes you need a solution that is more portable, less hassle, or simply has the look and feel of "normal". Protective Bedding is the perfect solution, offering good radiofrequency shielding (more than 90% of cellphone and wi-fi signals bounce right off) and made with comfy, washable, cotton fabric which has Silver coated Copper fibers woven throughout. The ultrafine fibers are so small you cannot see them with the naked eye, but show up easily under a microscope. Great feel and without flame retardant. Tested up to 30 washings with almost no loss of performance.

Washable, easy to iron

Attenuation: 29 dB at 900 MHz

Color: White

Resistivity: 108 Ohm/sq, cannot be grounded

Certificates: Öko-Tex 100 Class 1 (gentle enough for baby underwear)

Care Machine wash (gentle cycle), cold water. Hang dry. Iron without steam, low heat. No bleach. Do not dry clean.
Choose from two styles, and two sizes:
DUVET COVER:
Turn Your Favorite Blanket into a Shielded Blanket!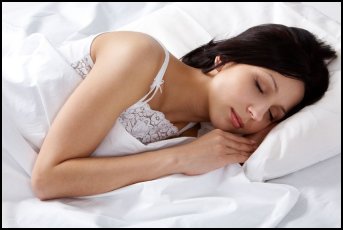 Like a giant pillow case, you can put your standard blanket or comforter inside the Duvet Cover so you can adjust for summer weight or winter warmth. One side is 220 thread count, 100% cotton. The other side is the shielding cotton fabric described above. Either side up. Opening at the foot has hook and loop closure for easy access.
Twin Size Duvet Cover: 66" wide x 94" long (Cat. #A360-T) ........................... $329.00
Queen/King Size Duvet Cover: 108" wide x 104" long (Cat. #A360-K) ........... $549.00
FLAT SHEET:
Like a normal flat sheet, with 3 inch hem at the top, but made entirely from RF shielding cotton fabric.
Twin Size Flat Sheet: 58" wide x 104" long (Cat. #A361-T) ........................... $329.00
Queen/King Size Flat Sheet: 108" wide x 110" long (Cat. #A361-K) ............. $539.00
---
RFID Blocking WALLET
"Prevents Identity Theft"
The RFID tags in identification cards have been shown to be insecure. Attackers are able to read and copy information stored on these tags to create copies they can use themselves! Major RFID enabled credit cards including Visa, MasterCard and American Express have been hacked. These stylish RFID B locking Wallets ensure that cards with RFID tags within the wallet can NOT be read while the wallet is closed. This gives you the ability to control when, how and by whom your cards are accessed. To allow the RFID tag in the card to be read, simply open the wallet and direct it towards the reader. Made of the finest quality leather and built to last. The wallets contain a layer of RF shielding that prevents RFID readers from reading any passive tags stored within. They have a convenient flap to allow easy "flip" access to RFID cards. Patent Pending.


RFID Blocking Wallet
(normal size wallet, lots of compartments)Black
Dimensions when closed: 4.3" x 3.3"
Certified as FIPS 201 compliant
RFID Wallet (Cat. #A265) ....... $36.00
---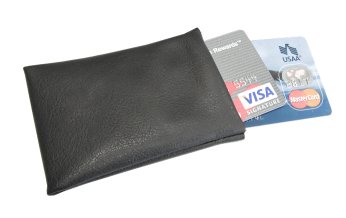 CardBloc™
"Credit Card Holster "
Like a lock-box for your credit cards, CardBloc minimizes the chance of having credit information stolen from your credit or debit cards. The unique high frequency shielding fabric contained in this soft leather pouch inhibits contactless information transfer. You can demonstrate its effectiveness yourself by trying to use your card to make a swipe purchase. Compare using your card first inside Cardbloc, then without it.
A tight fit is needed for maximum effectiveness. If your card can still be read while inside the Cardbloc, put in a few more credit cards or business cards until the pouch is comfortably full. Cardbloc may set off Airport security alarms because it contains metal, but should not trouble in-store anti-theft alarms. Cardbloc will not cause harm to your cards, and can be carried in your purse, wallet, or pocket. The pouches are robust and will last a long time under normal use, but should not be washed or allowed to get wet. Wipe clean only.
Cardbloc has high performance radio frequency shielding on both sides of the pouch to minimize your risk of becoming a fraud victim but is not a guarantee of safety, so in addition to using this protective wallet, always keep a close eye on your bank accounts for suspicious activity.
Only 2½ x 4 inches, soft and flexible.
CardBloc™ (Cat. #A235) ................... $29.95
---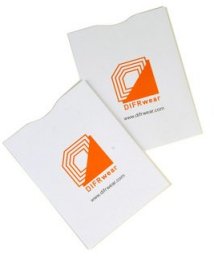 PASSPORT SHIELD
"Protect What's Yours from Prying Eyes"
Identity theft is rampant. This simple yet effective shielded passport jacket blocks the transmission of high frequency waves (13.56 MHz or UHF 860-960 MHz) used to read "smart" (contactless) passports. Prevents unauthorized access to your passport information. Passport Jacket Dimensions: 3-3/4 x 5-1/8 inches, fits most passports. Each jacket holds a single passport. Undetectable RFID barrier is embedded in the jackets, and adds almost no weight or bulk. Keeps your passport clean, safe, and secure. Passport slips in and out easily when it's time to present it to authorities. Get one for each traveler.
Passport Shield (Cat. #A266) ......... $19.95 each
---
ANTI-STATIC MAT
"Now With Washable Ex-Static™ Cover"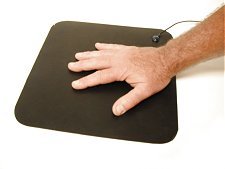 You can ground a useful (12" x 12") area with this professional quality heavy duty static control mat. Use it with static sensitive computer equipment or as a surface for handling static sensitive semi-conductors. Put it under your keyboard or laptop.
More importantly, you can simply touch the mat with any part of your body to dissipate electric field build-up and equalize your potential with ground and reduce static discharge problems. Put it on your seat or on your desktop to reduce ESD. Can be trimmed with scissors to fit any area. Includes removable and washable Ex-Static™ fabric cover, and 5 foot grounding cord (no resistor, terminates with an alligator clip). Surface resistivity is only 105 Ohm/sq. Tough black rubber, about 1/16" thick, for years of trouble free service.
This pad is for static discharge and grounding of radiofrequency shelding. We do not make any claims for health benefits of body grounding with this product.
Anti-Static Mat (Cat. #A212) ......................…. $69.95
---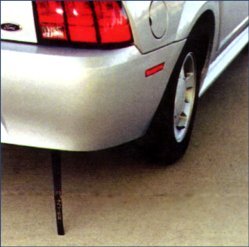 VEHICLE GROUND STRAP
"Maintains Electrical Connection to Ground"
Like a Grounding Wrist Strap for your car! No one likes that awful big shock when getting out of an automobile or truck. That shock is the discharge of "chassis voltage" built up as the vehicle moves along the highway. This type of discharge causes serious problems when it occurs at the gas pump. Every year, this seemingly innocent spark occurs at the wrong place and the wrong time: igniting gasoline vapors while fueling the vehicle. This is prevented by grounding the vehicle.
The Vehicle Ground Strap can be used on any car or truck. Simply affix the strap's clamp to the chassis of the vehicle and allow the conductive strap to dangle to the ground. Safe, durable and unaffected by the weather, the Vehicle Ground Strap maintains a secure ground and electrically neutral vehicle. Makes a great gift too. 18" long, 1 year warranty.
Vehicle Ground Strap (Cat. #A214) ……… $39.95
---